Brass Monkey 2018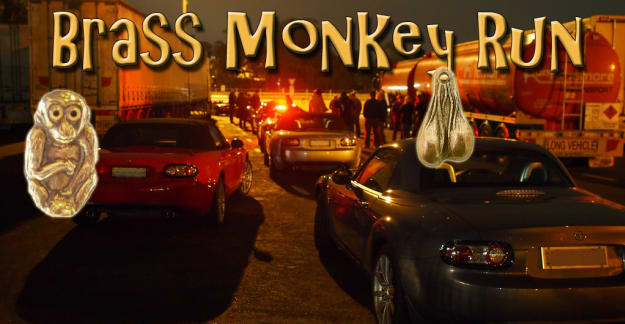 CAMS Permit No: 218/0807/06
On 8 July 2018 you get your chance to again chase the Brass Monkey to a charity breakfast with various options for a return run.
WHAT IS THE BRASS MONKEY ALL ABOUT?
The Brass Monkey is an annual open invitation event and the premier run for roadsters and adventurous sports car enthusiasts out of Sydney. The event is over 20 years old and has attracted up to 250 participants who possess a good sense of adventure and humour for a charity breakfast. The Brass Monkey should be on all enthusiasts' bucket list if you love a great drive on a cold crisp frosty morn in the middle of winter at your chosen pace through the countryside to start your day. It is point to point social fun run not a cannonball run on public roads.
WHY GET OUT OF BED FOR A DAWN BUSTER RUN?
If you have never been part of the Brass Monkey then don't be discouraged by a dawn buster run up and over the Southern Highlands to Goulburn because you think it is too early, dark and cold. The Brass Monkey has attracted thousands of motoring enthusiasts over the past 20 years. It is an experience that is worth getting out of bed for at sparrows fart to enjoy a drive in your five in the middle of winter. Appropriately dressed with the roof down (or windows down in a tin top) and heater on, you will participate in a memorable fun run to raise some money for CareFlight, a very worthy cause.
WHAT IS THE ROUTE?
Get to Goulburn whichever way you chose for the Brass Monkey Breakfast serving between 8:00am and 9:00am. The Brass Monkey starts running under the stars at 6:00am from the Eastern Creek M4 Service Centre Westbound heading down the M4, turning off for the M7 on spaghetti junction at the Light Horse Interchange and waits for nobody as it careers down the M31 pursued by a gaggle of roadsters.
If Eastern Creek is not convenient then you can wait anywhere along the route of the M31 after getting away from the Campbelltown urban areas. Show care when jumping on the back of a line of cars travelling at 110kph to allow everyone to enjoy the run across the Southern Highlands where the fields are frost bound and the temperature is often below zero outside the cacoon of your MX-5.
Choose your own route or join from the start of the chase of the Brass Monkey from the truck parking area at Eastern Creek just past McDonalds to run the M4 M7 and M31 (Hume Highway).. Turn off the highway at all the first Goulburn exit to follow the old Hume Highway (Sydney Road) into town and park outside the Goulburn Soldiers Club opposite Belmore Park at 15 Market Street Goulburn.
This event is a point-to-point event with no run leader, route map or runsheet but you are not alone with 100 odd cars travelling the same route to breakfast in a major town well known to most with only two left turns on route (off the highway and to park in Market Street at Goulburn). The BreakFast Club will have members on the road to help out where possible. We recommend that you log the address of the Goulburn Services Club into your GPS, follow the cars in front or take the first turn off and head into town turning left when you hit Belmore Park.
RETURN RUNS
The Breakfast Club will organise two runs home open for all those attending this event who prefer a drive with likeminded members away from the highway for at least part of the way back.
Weather permitting the long way point run of 275km heads east on back roads through Windellama, Nerriga and Nowra then up the coast to Heathcote for all points north to be home mid-afternoon. CAMS Permit No: 218/0807/07
The shorter run of 160km will go north to Marulan for the Southern Highlands Way through Tallong, Bundanoon, Moss Vale and Mittagong for the M4/M7 interchange at Prestons to see you home around lunchtime if the attractions of Berrima, Moss Vale or Bowral do not catch your attention. CAMS Permit No: 218/0807/08
TICKETS
The Brass Monkey Breakfast is a ticket only event. Tickets to be pre-purchased. Entrants must complete the form via the BOOK NOW button. A breakfast ticket costs $25 per person which includes a donation to CareFlight. There are two options to purchase a ticket:
Pay $25pp by direct deposit and get checked off the list on the day - Reference: Brass (Membership No) OR alternatively Brass (Surname) paying to BSB: 062401 Account: 10080286 Account Name: Mazda MX-5 Club of New South Wales,
If you do not have access to electronic transfers then send a stamped self addressed envelope with $25pp in notes to Brass Monkey Breakfast, PO Box 2230 Burwood North, NSW, 2134 to be received by Wednesday 4th July 2018.
APPROVED CLUB RESELLER
If a CAMS affiliated club wishes to be a reseller of breakfast tickets to its members then please contact Michael Soulos at captain@mx5.com.au.
GENERAL INFORMATION
The event will be run whatever the weather conditions on the day with no refunds as all surplus funds will be given as a donation to CareFlight.
DISTANCE : Eastern Creek to the Goulburn Soldiers Club is approx 170km
TYPE OF RUN : Strictly a point-to-point waypoint run, no run leader, route map or run sheets.
RUN GRADING : It is up to the individual driver to set their own pace, however, being conduct over 100kph plus dual carriage highways the run is graded XH on the Club's grading chart.
FUN RATING : Five (5) Stars
From 1st May 2018 the names of persons currently registered to chase the Brass Monkey to Goulburn will be posted. There are two columns of names, the first being the first name registered on line or one the paper form. For late entrants who have not paid on line or by post, we will collect the $30 at the Goulburn Soldiers Club before breakfast.
THE LIST BELOW IS ALL THE REGISTRATIONS RECEIVED UPDATED TO TUESDAY 3rd  JULY 2018 WITH A RECORD OF PAYMENTS RECEIVED AND ABLE TO BE ALLOCATED UP TO 1st JULY 2018
IT ANY OF THE DETAILS FOR YOU OR YOUR GUESTS NEED AMENDING THEN PLEASE EMAIL YOUR CHANGES TO Captain@mx5.com.au .  AN ACCURATE LIST WILL MAKE LIFE EASIER FOR OUR VOLUNTEERS WHEN YOU SIGN IN FOR BREAKFAST AND TO HELP WITH THE ALLOCATION OF MEMBERS MOTY POINTS.
AN UPDATED LIST OF REGISTRATIONS WILL BE POSTED BY NEXT SUNDAY AT THE LATEST AND DURING THE WEEK LEADING UP TO THE EVENT ON SUNDAY 8 JULY 2018 
 
NAME
Mship No.
RETURN
PAID
LONG RUN
SHORT RUN
1
ADAM
Jarrod
3773
L
 
 
2
ALEXANDER
Peter
2795
 
S
P
3
BADOVINAC
Tanya
3358
 
S
P
4
BAGLEY
Maria
Visitor
 
 
P
5
BATTISSON
Peter
2098
L
 
P
6
BEERWORTH
Peter
1060
 
 
P
7
BISLEY
Jill
Visitor
 
 
 
8
BRAMSTON
Merla
3499
 
 
P
9
BRAMSTON
Patrick
2008
 
 
P
10
BOTTOMLEY
Patrick
2790
 
S
 
11
BOTTOMLEY
Vicki
2791
 
S
 
12
BOURNE
David
3628
 
S
P
13
BRIGGS
Grant
3460
L
 
P
14
BRIGGS
Jacky
3461
L
 
P
15
BROWN
Jason
2605
 
 
P
16
BYERS
Sean
2728
L
 
P
17
BYRNE
Greg
3486
L
 
P
18
BYRNE
Will
3741
L
 
P
19
DAVIES
Bruce
2061
 
 
P
20
DAVIS
Stephen
3782
 
S
 
21
CAMERON
Ed
Visitor
L
 
P
22
FAULKENER
Colin
1267
 
 
P
23
STEVENSON
Brian
Visitor
 
 
P
24
FLETCHER 
Gillian
2445
 
S
P
25
FLETCHER 
Graham
2444
 
S
P
26
FORSYTH
Robert 
2101
L
 
 
27
FOX
Jon
2629
 
 
P
28
GALLOP
Brigit
2555
 
 
P
29
GALLOP
Ron
2554
 
 
P
30
GILLET
Mary
Visitor
 
S
P
31
GILLET
Trevor 
Visitor
 
S
P
32
GLEGG
Cameron
Visitor
 
 
P
33
GOWER
Allan
Visitor
 
S
P
34
HAMPTON
Mark
Visitor
 
S
 
35
HAMPTON
Todd
Visitor
 
S
 
36
HEPPELL
Timothy
2197
L
 
P
37
HICKS
Ann
3325
L
 
P
38
HICKS
Bryan 
3324
L
 
P
39
HILL
Lena
2571
 
 
P
40
HILL
Wesley
2570
 
 
P
41
HODGES
Steven
3191
 
S
 
42
HORSPOOL
Brian
Visitor
L
 
P
43
HUXTABLE
Paul
3741
L
 
P
44
JEFFREY
Amanda
3305
 
 
P
45
JOHNSON
Cathy
3299
L
 
P
46
JOHNSON
David
2648
L
 
P
47
JOSS
Alan
Visitor
 
 
P
48
JOSS
Gary
3455
 
 
P
49
JOHNSON
David
2648
L
 
P
50
JOHNSON
Cathy
3299
L
 
P
51
KOLLYANI
Csaba
3794
 
 
P
52
KOLLYANI
Rachel
3795
 
 
P
53
KOLLYANI
Guest
Visitor
 
 
P
54
KOLLYANI
Guest
Visitor
 
 
P
55
KAVENAGH
Kareene
3011
L
 
P
56
KAVENAGH
Mark
3010
L
 
P
57
LASCHKO
Hayden
Visitoir
 
S
 
58
LAUGHLIN
Ian
Visitor
 
S
 
59
LEGGE
Ray
2765
 
 
p
60
LEGGE
Vicki
2766
 
 
p
61
LIEHR
Rebecca
Visitor
 
S
P
62
LEWANDOWSKI
Sharon
3694
 
S
P
63
LEWANDOWSKI
Victor
3693
 
S
P
64
LORD
Stephen
2923
L
 
P
65
LOWDEN
Megan
3692
L
 
P
66
McDONOUGH
Todd
Visitor
L
 
P
67
MARKS
Duncan
Visitor
L
 
P
68
MIFSUD
Karen
3711
 
 
P
69
MILLER
Ian
1521
L
 
P
70
MILLER
Tami
Visitor
L
 
P
71
MILLER
Dawn
3580
 
S
P
72
MILLER
Robert 
3579
 
S
P
73
MILLS
Paul
3836
 
S
 
74
MITSOS
Con
2621
 
S
P
75
MOLDEN
Frances
3693
 
S
P
76
MOLDEN
John
3294
 
S
P
77
MONAGHAN
Keith
1680
 
 
 
78
MULLINS
Jodie
3840
 
S
 
79
MULINS
Michael 
3839
 
S
 
80
MUMFORD
Robert 
3293
L
S
P
81
MURPHY
Jake
3832
 
 
P
82
NICHOLAS
Maryanne
3803
 
 
P
83
NICHIOLAS
Roid
3791
 
 
P
84
O'HAGAN
Anne
Visitor
 
S
 
85
PIPER
Colin
2842
 
 
P
86
PORTER
David
2614
L
 
P
87
PRATTLEY
Rochelle
3782
 
 
 
88
PRIEBE
Hannah
3729
 
 
P
89
PULLAN
Mark
3605
L
 
 
90
QUESTER
Ron
3513
L
 
P
91
QUINN
Bob
Visitor
L
 
P
92
RAGHAVAN
David
3778
L
 
P
93
ROBINSON
Brad
1756
L
 
 
94
ROBINSON
Paul
Visitor
L
 
P
95
ROWE
Jeffrey
3619
 
 
P
96
ROWE
Pamela
3620
 
 
P
97
ROSSI
Alida
3264
 
 
P
98
SAMPSON
Paul
Visitor
 
S
 
99
SEXTY
Bob
Vivitor
L
 
P
100
SINDEN
Ian
Visitor
 
 
P
101
SINDEN
Owen
3499
 
 
P
102
SMITH 
Graham
3006
 
 
P
103
SOULOS
Michael
1297
L
 
P
104
TOLLANAAR
Ron
3820
 
 
P
105
TUNKS
Greg
3357
 
S
P
106
UNDERWOOD
Mark
1717
L
 
P
107
VASSAR
Inma
3807
 
 
P
108
VASSAR
Robert 
3806
 
 
P
109
VERHEYEN
Franck
1497
 
S
 
110
VERHEYEN
Marg
1498
 
S
 
111
WAITE-PULLAN
Mark
3605
L
 
P
112
WILKINS
Robert 
3213
 
S
P
113
WILLIAMS
Gary
3164
 
 
P
114
WILLIAMS
Kim
3165
 
 
P
115
WILLIAMS
Paul
1377
 
 
 
116
WILLIAMS
Sandra
1378
 
 
 
117
WOJEWSKI
Wally 
3290
 
 
P
118
WYATT
Barbara
2961
 
 
p
119
WYATT
Chris
2960
 
 
p
120
YOUNG
Gina
3220
 
 S         
P
121
YOUNG
Wayne
3207
 
S
P
122
ZAMBESI
Greg
3559
 
 
 
123
ZAMBESI
Janet
3558
 
 
 

THE BRASS MONKEY IS A UNIQUE FUN RUN EXPERIENCE & NOT A RACE 
NOBODY IS EXPECTED OR ASKED TO DRIVE ABOVE THEIR COMFORT LEVELS