Lunch at the Taralga Pub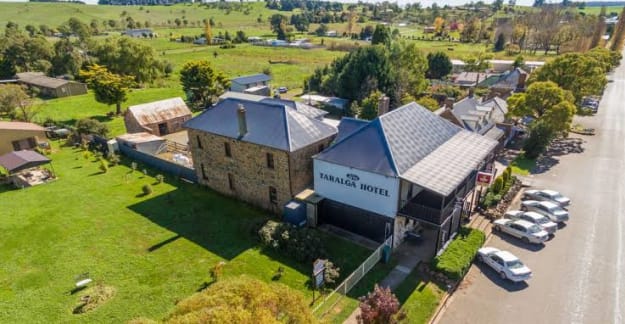 Join Kerry for a run to the Taralga Pub for lunch.
Run through countryside via Gundaroo, Gunning (for coffee, of course), and Crookwell before heading off to Taralga for a hearty lunch at the famous pub.
Built in 1876, many generations of Taralga locals have enjoyed this hotel as a popular meeting place. The atmosphere is as warm as the fires and the beer is as cold as the Taralga winters. Beautiful Taralga is situated on the Tablelands Way, 44kms North West of Goulburn along a sealed road. The Tablelands Way is a great 'drive or ride' destination. 
We know. We've been here before and loved it. That's why we're going back.
Make your own way home, perhaps through Goulburn, Tarago and Bungendore.
More to come soon.
RSVP to Kerry Evans: kerrym.evans@live.com.au
Kerry will take registrations on a 'first in' basis to the maximum of ten members, and may take additional names should anyone withdraw or other circumstances permit additional members attending.
PLEASE NOTE: The following 'COVID-19 Procedures' introduced by the Club (effective from 1 June 2020) apply to this run:
 the run is restricted to a maximum of 10 (ten) financial members
members wishing to attend MUST register with the Run Leader by the email or the Google forms system set up for the event
only participants who receive an acknowledgement from the Run Leader, via email or text, may gather at the start venue and join the event. Under no circumstances will any member be allowed to tag along
all current COVID-19 restrictions relevant to the jurisdiction must be complied with, including social distancing rules
all participants are strongly advised to have downloaded the COVID Safe App and are required to carry personal hand sanitiser.
Further information is available at http://nsw.mx5.com.au/news/covid-19-update1.