There's gold in them tha' hills
05 November 2018 / Written by: Dianne Henderson, Photos by: John Purcell
      It was an early, hazy Sunday morning when 16 MX-5s and the Allen's family carrier with 26 members (including our youngest member, 3 month-old Ari, and his older brother, Albie) headed off from Thornton McDonalds to look for gold in them tha' hills of Copeland.  We were accompanied by some prospective members who were interested in what great fun we got up to. As well as Diann Miller's daughter Samantha, who joined in the fun to celebrate her mum's birthday.
   We headed off towards Raymond Terrace and then took a leisurely 1-hour back road drive to the historic town of Stroud. It turned out to be a great drive with the MX-5s having the run of the road with few other cars to be seen.  There was a 3km patch of dirt road that drew some looks of fear when I mentioned it at the pre-run briefing but turned out to be fine. In fact there were many a comment about how the road was quite good and the scenery was lovely.
   It turned out the dirt stretch of road was somewhat better than much of the Buckett's Way, which had many patchy pieces. We took a pit stop at Stroud showground before setting off on the final leg to Copeland.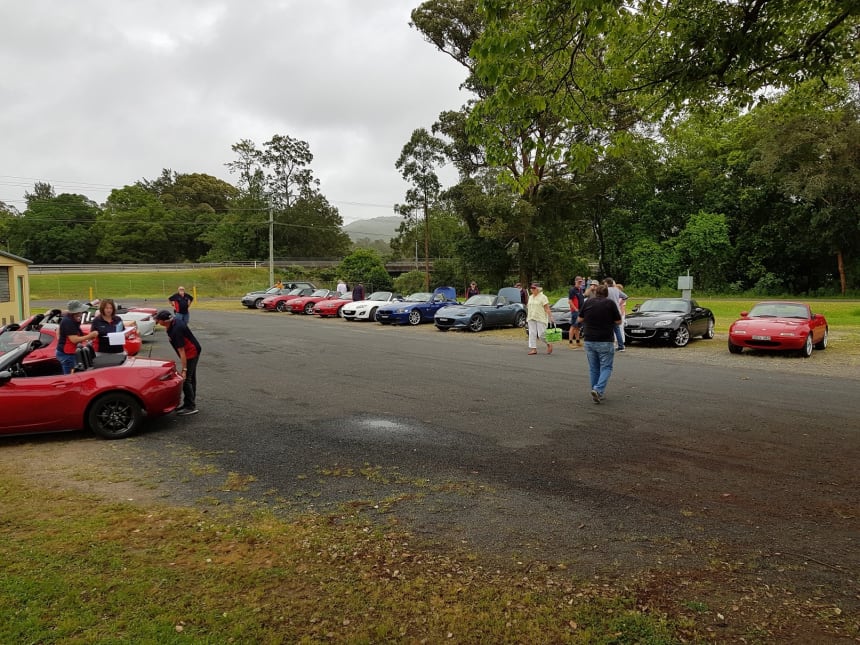 Stroud Showground
It was a lovely drive through Gloucester and on through Barrington before reaching our destination. By this time the haze and cloud had lifted and the heat had started to rise. Luckily the gold mine is in a beautiful rainforest setting with loads of canopy leaving it quite pleasant.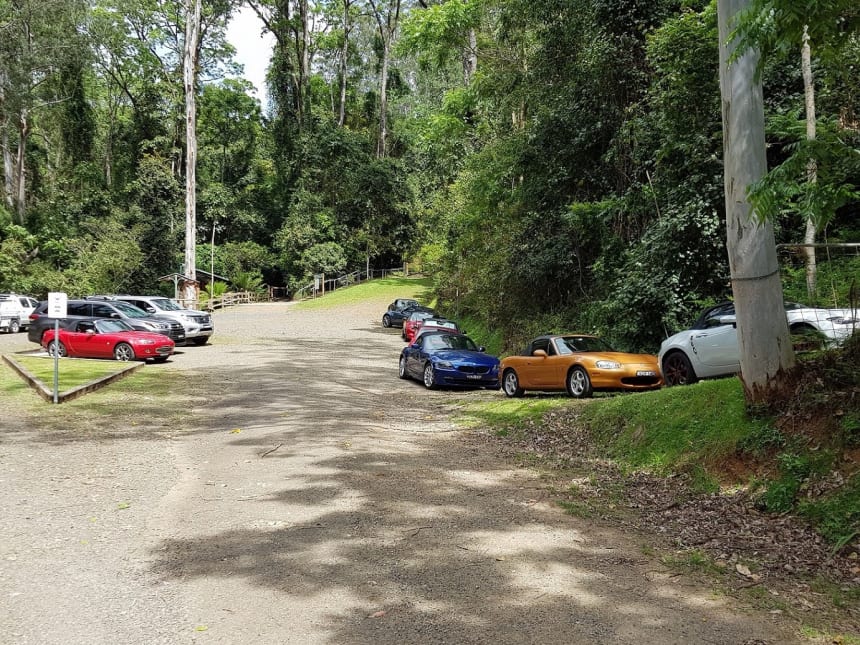 Morning Tea                                                          A bit of shade
     After a lovely morning tea, Mel, our guide from National Parks & Wildlife, arrived to begin our tour of the Mountain Maid Gold Mine. Mel first gave a safety talk about not touching stinging trees as they would hear you screaming from Gloucester with pain, that it being tick season to make sure to do a check afterwards and those with long hair should tie it up before the walk as apparently ticks love hair flowing in the breeze, also to be aware of leeches although because they hadn't had much rain we were probably OK and finally watch out for snakes but it's ok we only have diamond pythons. By this time I could feel all eyes on me…where have you brought us? And we're paying for this pleasure?
     As it turned out no-one touched a stinging tree, and no ticks, leeches or snakes were to be seen. Mel proved to be a real treasure with lots of local knowledge. The tour was incredibly interesting and started out with a short film from the 1950s-60s taken by the gold miners of that era.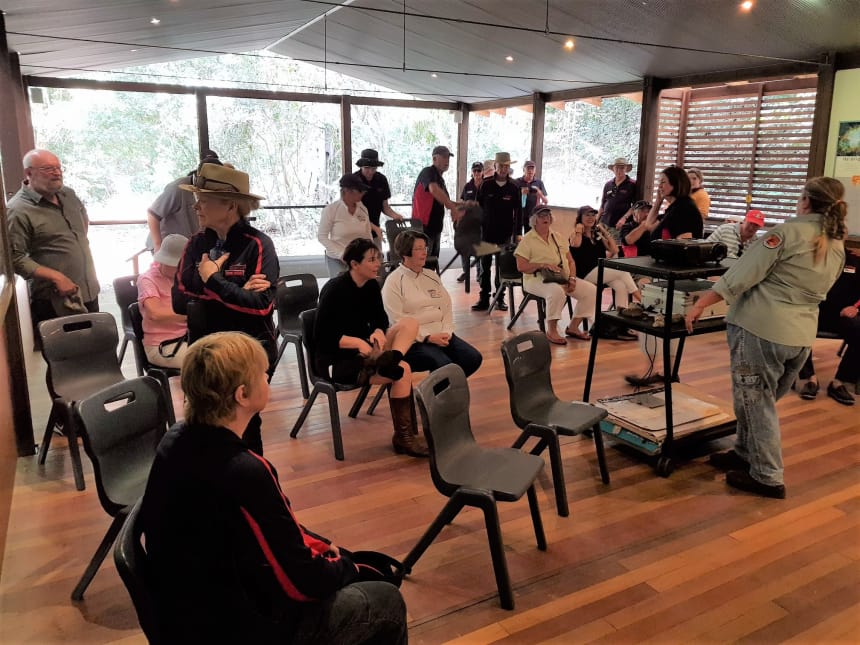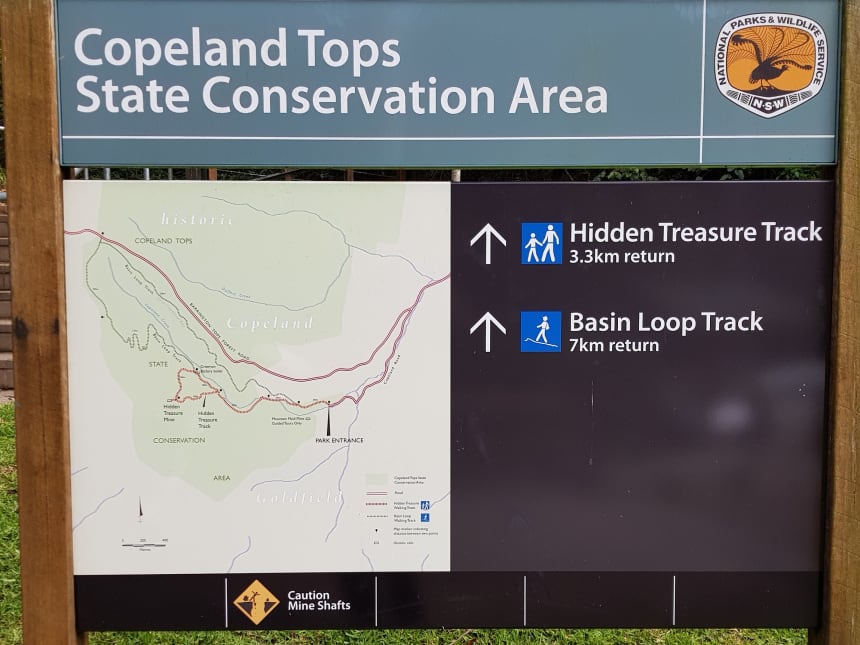 Presentation about to begin                                      The Hidden Treasure Track
There was much MX-5 commentary during the film about the safety aspects of gold mining at that time: safety gear included shorts, no shirt and thongs. There was even a piece in the film where one of the miners was packing dynamite while, as you do, having a smoke. How things have changed!
    We then took a long walk around the gold mine area that still has some of the original 1950s machinery in place. Mel was a wealth of knowledge pointing out all the various aspects of the mine and the machinery.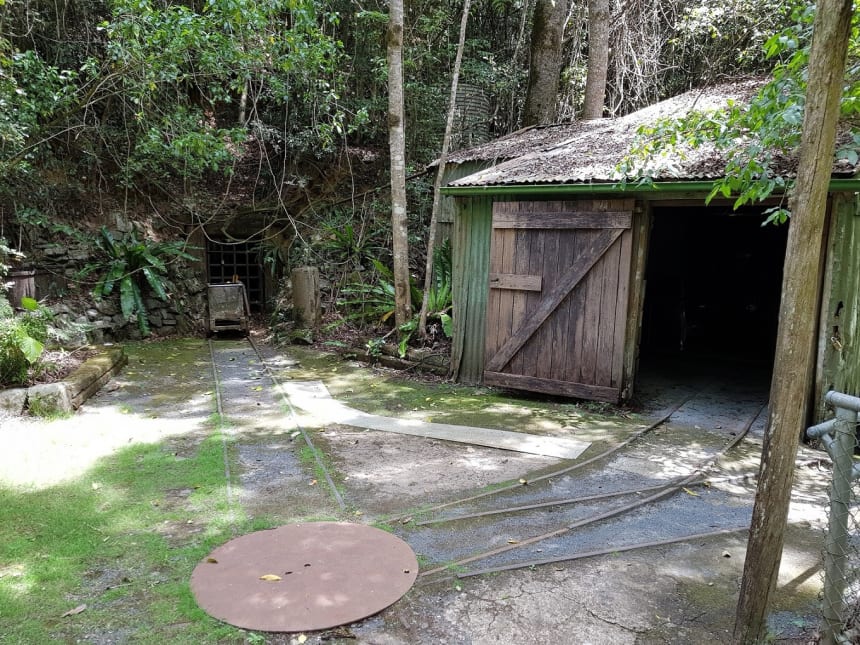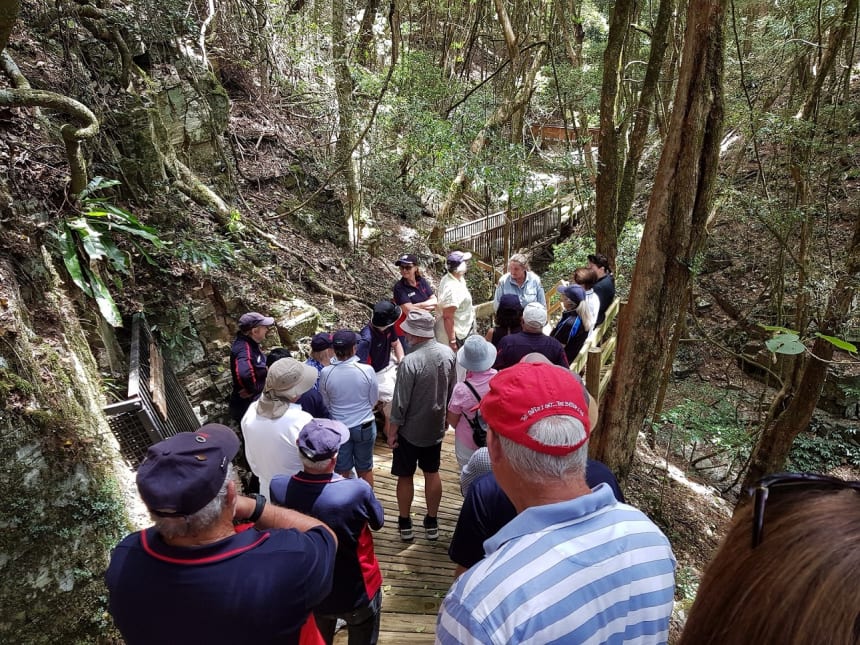 Mine Entrance and Crusher Shed                                            Boardwalk Lecture
It was then a lovely boardwalk up through the rainforest with Mel giving us some education on local flora including what makes good bush tucker. And finally we were back in the car park, giving Mel large applause for her guide skills and heading back to Gloucester for lunch.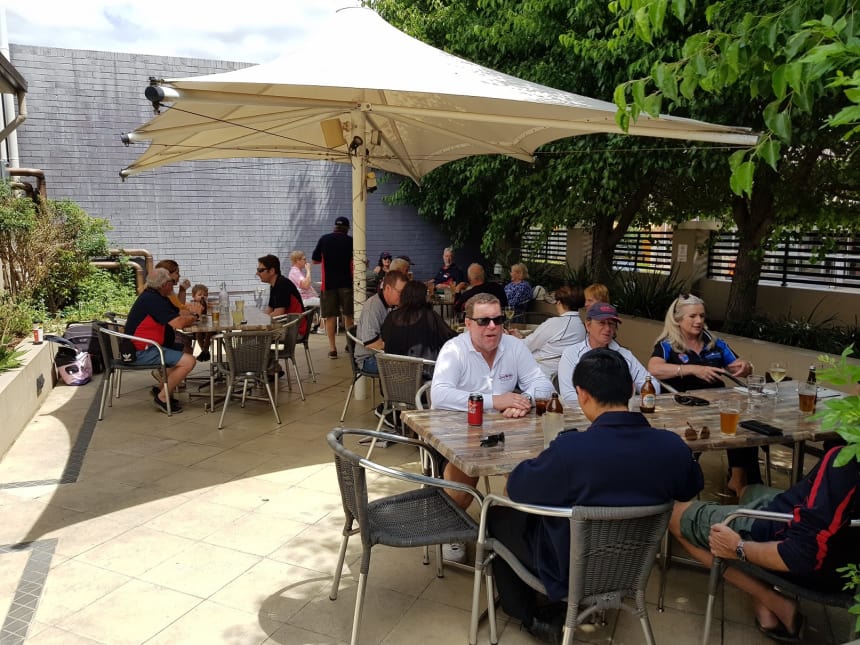 Roundabout Inn Gloucester
    The Roundabout Inn gave us the front courtyard to ourselves and had all but George's burger ready for us. The lunchtime special…burger and a beer seemed to go down a treat! There was a big round of happy birthday for Diann – hopefully turned out to be a birthday not to be missed. All in all a great day I would say.  Now the thinking caps on…what can we do for our run next year