A Run through the Falling Leaves – to Bright 2021
27 May 2021 / Words – Ken Keeling. Photos – Rod & Maryanne Nicholas
Another Run through the Falling Leaves – to Bright in 2021
Canberra Chapter – 30th April through 3rd May 2021
Run Leaders - Ken & Diana Keeling
With everyone at the rendezvous and fuelled up 7 MX5s plus, 2 "escort cars" with 18 MX5ers aboard, departed at 8 am for our four-day excursion, through the falling leaves of Autumn, to N.E. Victoria. 
A responsible pace had us nicely in Jindabyne for coffee before taking the Alpine Way up and down to Khancoban.  At Kosciusko National Park entrance, despite prior arrangements, we still had to individually stop and obtain passes, which unfortunately allowed a tour bus to get in the middle of our little convoy.  Those ahead of the bus had an enjoyable run to Thredbo and up Dead Horse Gap, but those behind less so. Eventually, the bus driver realised, with MX5s both in front and behind on a winding mountain road, that he was impeding a car club outing and belatedly stopped to let us pass.  
Finally, with the bus and tourists well behind us, the descent down to Tom Groggin and Geehi was enjoyed at somewhat "faster than tour bus speed in the twisty bits".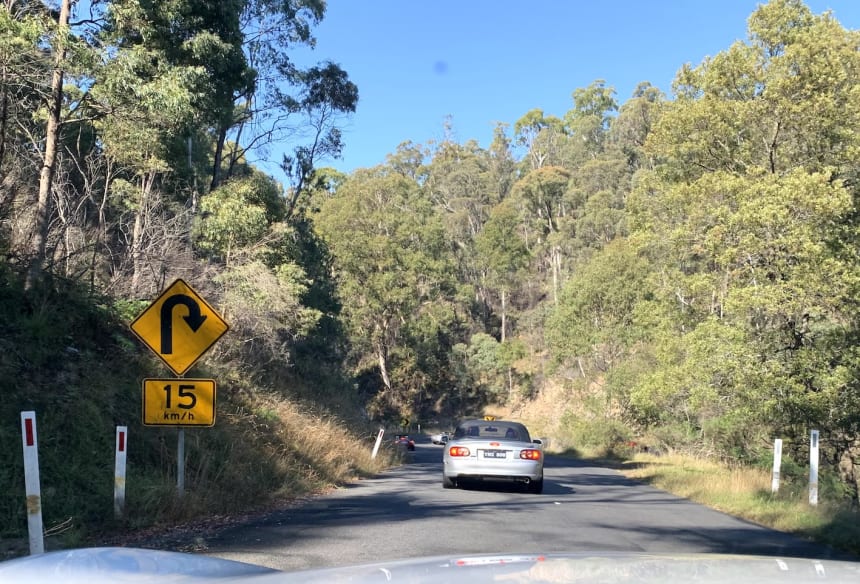 What MX5s are made for.....
Stops at Scammell's Ridge and Murray 1 Power Station had us arrive nicely on time for lunch at "Corryong Brew Café".   Prior arrangements ensured that we were all seated on a pleasantly sunny verandah for a well-earned break from the driving and with good options for an enjoyable light meal.
After lunch, we travelled down the eastern side of the Kiewa Valley, crossing the river at Brigg's Bridge to Tawonga before the steep but enjoyable climb up to the Tawonga Gap Lookout.  
The view from Gap Lookout did not disappoint and the sector downhill into the Ovens River Valley is always an enjoyable run on well-maintained road.  As planned, we arrived at Bright before dark to enjoy the autumn leaves on the approach to the town.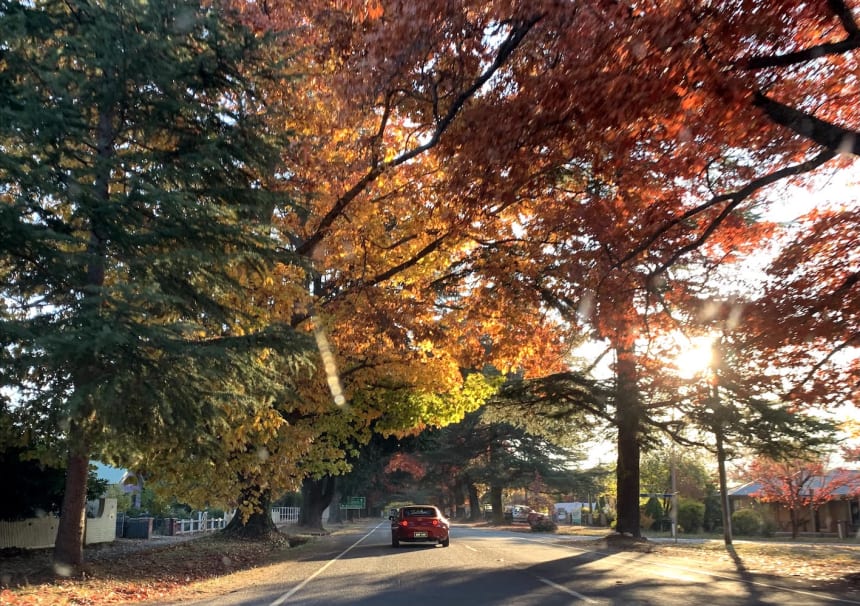 Warm Autumn colours when entering Bright
Arriving at our motel we settled in and after some rest and a wash-up, it was only a short walk from our accommodation to the evening repast at the Bright Brewery.  Again, this venue fully lived up to expectations and surprised some with their high standard of their "pub food" – and craft beer!  
Interesting roads, brewed refreshments & good food shared with friends - what a nice day out!
Saturday saw a run to Beechworth - down the Great Alpine Road to Myrtleford and then, via the indirect but more interesting C525 up and over the hills to Stanley and Beechworth. After a coffee & shopping break we reassembled to travel, again by an indirect road with curves, to explore the Milawa region, arriving nicely in time for our lunch at Sam Miranda's King Valley winery restaurant.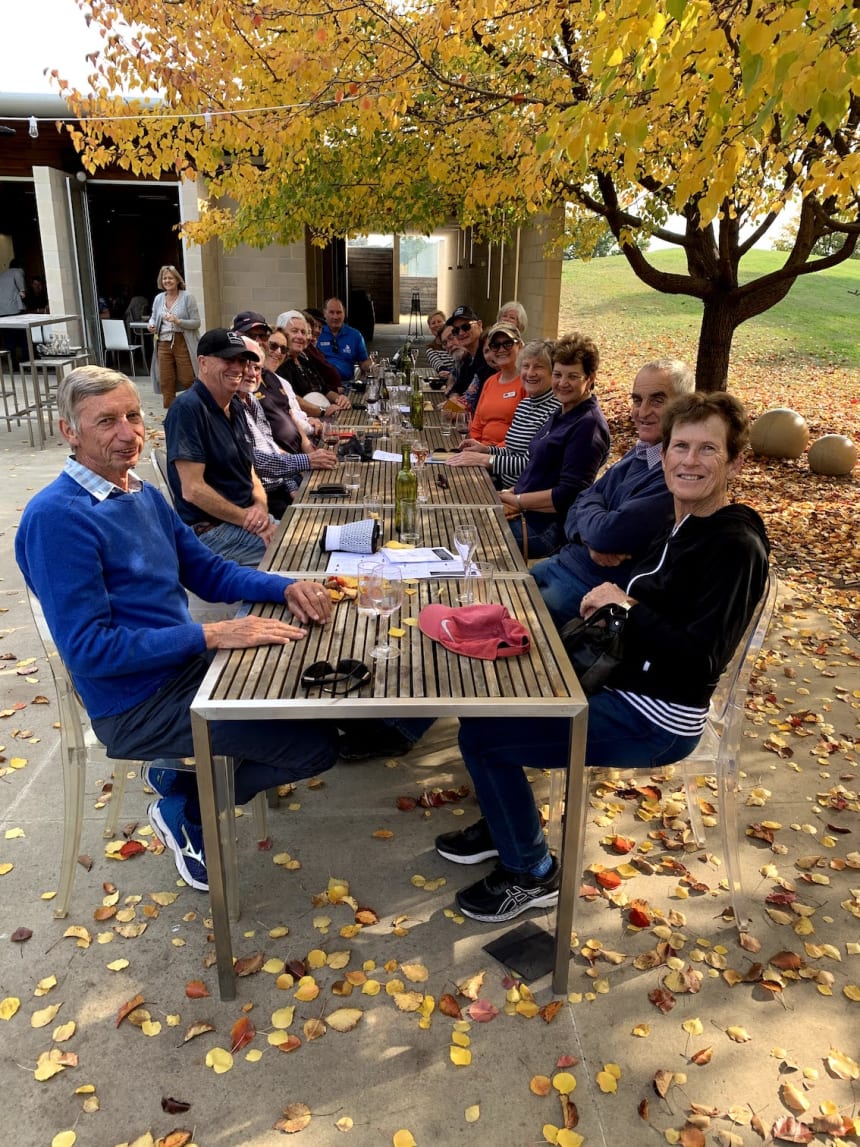 At Sam Miranda King Valley - waiting for lunch amongst the autumn leaves
Seated in a most acceptable "al fresco" setting under the multi-coloured leaves of previously shady trees, a most convivial lunch was enjoyed with the food and wine meeting everyone's expectations. 
Perhaps it was the conviviality over lunch, but quite a few cancelled the rest of the potential afternoon activities and meandered back to Bright in their own time, some stopping to sample various vigneron's offerings on the way. An unmarked Vic Roads "Stealth Camera" van discretely parked on an obscure country road was spotted by several of our hawk-eyed drivers.  The fact that everyone safely got back at Bright sans penalty is surely testimony that we are responsible drivers. 
Saturday evening's plan for another "pub meal" started with pre-dinner drinks in the motel garden. But that plan was soon replaced by an impromptu spread - wine, cheese, olives etc.   Unplanned but thoroughly enjoyed in convivial company, even if in somewhat crisp evening air, thanks to our ladies.  
A late start Sunday had been agreed, although some of the younger, fitter and more enthusiastic did extraordinary things, like getting up early, going for brisk walks amongst the brilliant Autumn leaves or strolling along the picturesque Ovens River parkland.
Early morning stillness in Bright
Walks over for some and eventually waking up for others had us ready for a late morning departure to "The Red Stag" wildlife park and restaurant for lunch.  Located on a hillside at Eurobin, this venue provides not only great views up the Ovens Valley to Mt Buffalo but also a wide range of the Cervidae family, some with magnificent antlers, to look at (or taste!) - as well as Ostriches and Emus.  
Those with exotic appetites chose from a menu with an extensive selection of game meat options, including Venison sausage, Emu Burger, and Kangaroo chorizo.  Sadly, their delectable Venison Pie was not available, being only a winter menu item.  Of course the usual choices were also on offer and enjoyed with local wine.  Yet another great luncheon visit to The Red Stag by a Canberra MX5 group.
After lunch, some stopped to take photos near vineyards or investigate wineries and breweries whilst others explored Mt Buffalo - or retired for a "nonno nap" in preparation for evening festivities.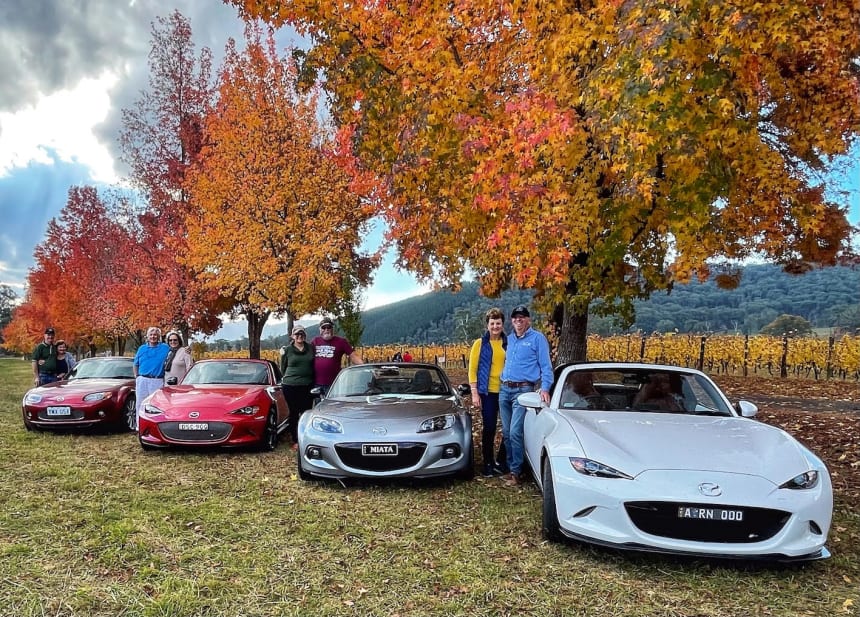 Bright colours and some of our MX5ers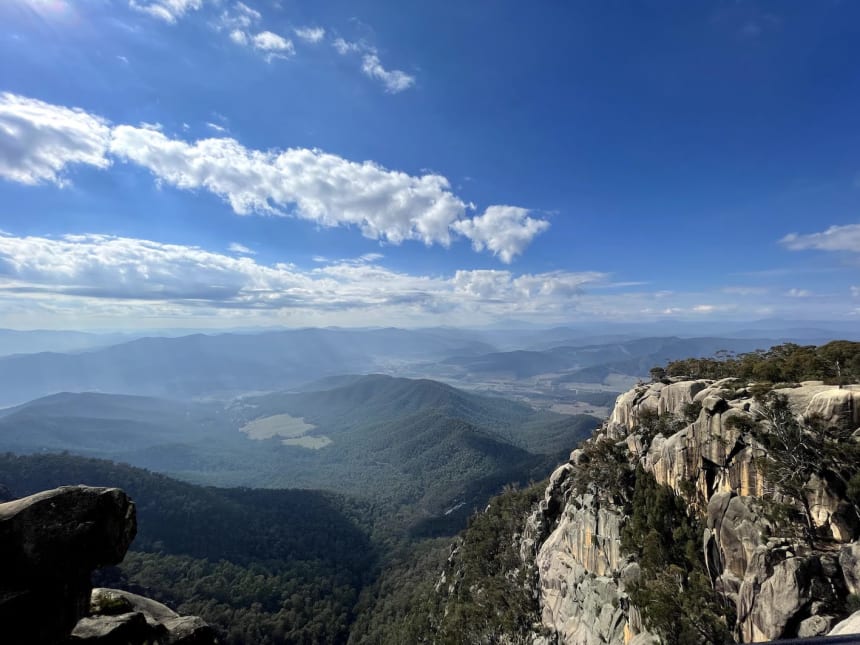 View from Mt Buffalo toward Bright
Sunday night's activity was a group gathering at the Star Hotel for our farewell evening, a good meal in good company and only an easy walk from our accommodation - a very pleasant final night away.
Despite forecast showers, Monday dawned as a crisp clear morning. Our departure from Bright was initially back along the Great Alpine Way, before turning onto the appropriately named Happy Valley Road, and then along the western side of the Kiewa Valley to the Murray Valley Highway, to a first rest stop at Tallangatta.  Our route was then via the interesting Granya Road, before meandering along the Murray to cross it into NSW at Jingellic.  After a short rest at Jingellic, we were able to enjoy driving the good roads to Tumbarumba.  Fortunately, we were all reasonably easily able to pass the several trucks we encountered.  Approaching Tumba-town, we turned off the main roads to take the Courabyra and Green Hills Forest Roads to Wondalga and them on to our lunch at the Tumut River Brewery. After a very enjoyable lunch, our group broke up to travel independently back to Canberra.  
It was only after passing the ACT border at Hall, just a few kms from home, that the forecast threat of rain proved to be true.  And down it came, rather heavily, albeit only briefly and in no way did that detract from a truly great weekend of enjoyment, driving interesting roads in a lovely part of Oz, experienced in pleasant Autumn weather, and in the good company of ACT Chapter MX5 friends.  
Ken Keeling
24th May 2021