Regularity
What is a regularity? Believe it or not, regularities have nothing to do with getting enough fibre in your diet! The idea is that you nominate a lap-time and then try to achieve lap-times as close as possible to that time. Bonus or Penalty Points are allocated on the basis of time difference, and the best overall score wins. It's a popular event amongst drivers as it rewards consistency rather than outright pace, where even the slowest cars on the track have an equal chance of winning if they drive consistently. There are usually more cars on track at once, compared to supersprints and club track days, which provides the opportunity for overtaking and being overtaken.
Members from the Mazda MX-5 Club of NSW compete in both individual and regularity relay team events. Please contact Stewart Temesvary for further information.
Regularity Relay Team Events
Regularity Relays are events where teams of four or more drivers participate in a regularity, taking turns on track to match their nominated time as closely as possible. With only one car from each team allowed on the track at a time, there are up to 50 cars together on the track! A complicated formula rewards consistency and heavily punishes those who drive too quickly. Strong performance in these events demands intensive teamwork by the pit crew who manage manual laptiming and communicate this information to the driver only via pit boards. Currently there are three regularity relay team events on our club's motorsports calendar:
NSW 6 Hour Regularity Relay at the Sydney Motorsport Park Grand Prix Circuit
Victorian 6 Hour Regularity Relay at the Phillip Island Grand Prix Circuit
Alfa Club Regularity Relay at the Winton Long Circuit
NSW 6 Hour Regularity Relay
The NSW Road Racing Club held the first NSW 6 Hour Regularity Relay on the Druitt Circuit at Sydney Motorsport Park in 2016. Held on the Easter long weekend, the event swapped to the Grand Prix Circuit for 2017 and has stayed there since. The number of competing teams has grown steadily from 16 in 2016 to 36 in 2018. The organisers have used a different scoring system at each of the four events so far, and hopefully the 2019 version is here to stay.
The fourth running of this event was held on the Easter weekend of 20 and 21 April 2019 on the Grand Prix circuit at Sydney Motorsport Park. Our club entered 9 teams (out of a total field of 30 teams) with 37 club members driving. That meant almost 1 in 3 cars on the track were members of the MX-5 Club of NSW. Our teams added another two podium places to the collection.
For the first time in its history, the 2020 NSW 6 Hour will move away from the Easter weekend and is scheduled to be held on Sunday 17 May 2020, with practice on Saturday 16 May 2020. For more details see the NSW 6 Hour FaceBook page or email regularity_relay@mx5.com.au.
History of Mazda MX-5 Club of NSW at the NSW 6 Hour Regularity Relay
2016 - three teams finishing 8th, 11th and 13th
2017 - four teams finishing 1st, 2nd, 9th and 12th
2018 - nine teams finishing 5th, 7th, 8th, 16th, 18th, 19th, 23rd, 26th and 33rd
2019 - nine teams finished 2nd, 3rd, 5th, 7th, 9th, 10th, 12th, 14th and 15th
Victorian 6 Hour Regularity Relay
This event has grown in popularity since the first was held in 2006. It is conducted during mid-winter at Australia's premier race track - the Phillip Island Grand Prix Circuit. The Mazda MX-5 Club of NSW entered one team in 2011, growing to three teams in 2012-2014, and five teams in 2015-2016. Our teams have won five podium finishes in the last eight years, including the event's first ever back-to-back winners in 2018 and 2019. More Info.
History of Mazda MX-5 Club of NSW at the Victorian 6 Hour Regularity Relay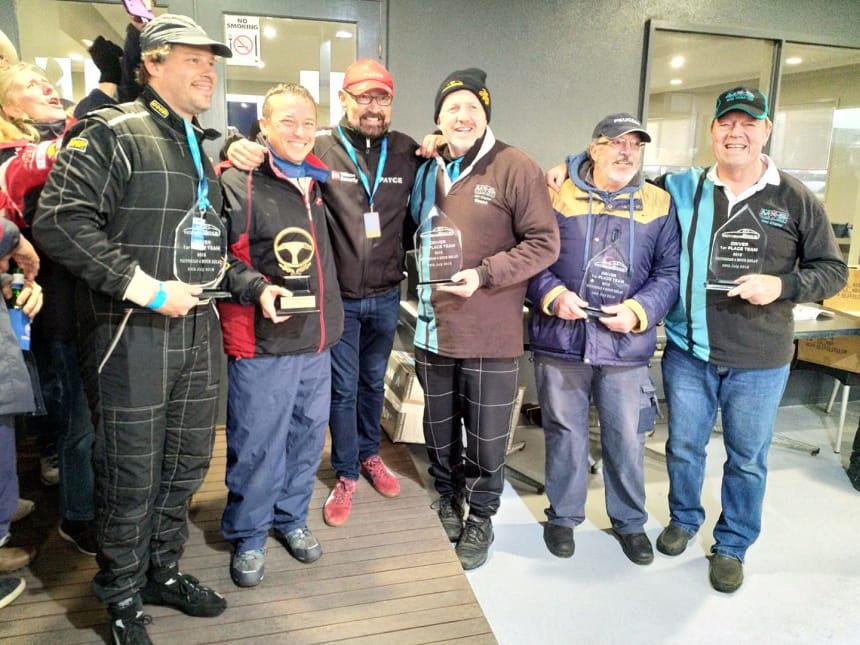 Alfa Club Regularity Relay
Conducted at Winton Raceway, Victoria in mid to late October each year, the MX-5 Club of NSW first entered a team in 2015 for the 10 Hour Relay to celebrate the 10th anniversary of this Regularity Relay. In 2017, the event changed to a 12 Hour Relay, to celebrate the 12th anniversary of the event. This consisted of 3 hours practice and 5 hours regularity on Saturday, followed by 7 hours regularity on Sunday. More Info.
History of Mazda MX-5 Club of NSW at the Alfa Club Regularity Relay
2015 - one team finishing 15th.
2016 - two teams finishing 5th and 18th.
2017 - two teams finishing 1st and 13th (story).
2018 - two teams finishing 1st and 10th (story).
2019 - three teams finishing 1st, 15th and 22nd.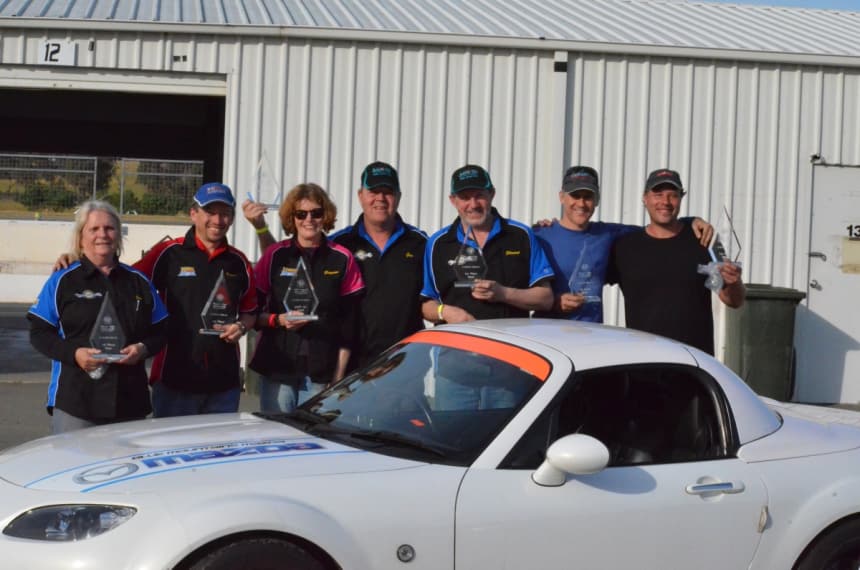 Individual Events
Challenge Bathurst
The inaugural Challenge Bathurst event was held in November 2016 and was a successful event where more than 200 cars competed in five regularity fields of over 40 cars per field. While Mount Panorama is a daunting track it is arguably the best track in Australia and a very rewarding track to drive. MX-5 Club of NSW members achieved outstanding results with two members winning groups C and D, one member achieving a second in his group E, and one member achieving third in group C.
November 2017 saw the second running of the Challenge Bathurst event and a small but enthusiastic contingent from the MX-5 Club of NSW competed. The torrential rain on the Saturday and numerous red flag interventions didn't dampen their spirits. RPM Chapter achieved a clean sweep of the podium in Group C, while club members also took out second and third in Group D. For a detailed report on this event click here.
Motor Racing Australia (MRA)
Motor Racing Australia (MRA) was formed in 2005 to create a cost effective route to racing. Each meeting features races for Super TTs, Sports Sedans, MX-5s, Superkarts, and the latest category additions of Excels and Pulsars. MRA continues to operate cost effective and friendly motorsport, whilst maintaining a high level of safety and communication with competitors. Regularities are usually offered for those who would like to participate in the race meeting, but prefer to avoid the door-to-door racing. More Info.
Festival of Sporting Cars (FOSC)
The Festival of Sporting Cars has evolved from the desire of a small group of dedicated individuals to stage motor racing events where enthusiasts could compete simply for the sheer fun and pleasure of it. The regularities are popular with several Club members and we encourage others to join the fun. It's regarded as the closest thing to racing ... without actually racing. More Info.