Araluen Pub Run
05 February 2022 / Words by Rod Nicholas. Photos by Rod & Maryanne Nicholas and Bill Short.
A few days before the run I was thinking it was going to be lonely trip, but a flurry of registrations in the last few days boosted my confidence.
I'd decided to have two start points for this run; one in Canberra for north-siders, and one in Bungendore for those who travelled from the south (or just found it easier to skip the roundabout trip I had planned for the first leg to Bungendore).
And so, four cars set off from the ACT Netball Centre in Lyneham for a diversion along Mulligan's Flat Road, Shingle Hill Way, and the Bungendore Road. We headed out a little later than intended due to a communication mix up on my behalf, but this part of the trip was quick and scenic with no dramas, apart from a dodgy manoeuvre on my behalf as we left Canberra (sorry guys, I forgot just how quick the turnoff came up). The roads were in good nick and traffic was light.
In Bungendore we picked up another five cars and headed along the Kings Highway to Braidwood. There was considerably more traffic – Canberrans deserting the capital for the coast – but eventually we pulled into Braidwood. Our final car was waiting for us in Braidwood – it would have been almost impossible to miss Bill and Jan's Goldilocks, one of the brightest NC hardtops I have seen (and it's gorgeous!). I had intended to stop for coffee and a wander, but the place was chockers – a car and bike meet of some form or other had the main street parking full and side streets blocked off. 'The pub at Araluen will do a coffee if you want it' volunteered Col, so after a brief comfort stop, onwards we went.
This final leg is a short 25k but the last 10 is steep and twisty as we wind down into the valley. Thanks to several wet weeks (or is it months?), the road has some unpleasant chunks missing, or about to turn to rubble, so a little dodging and weaving was necessary in places. It wasn't too bad, though Ted and Rozie must have had a bit of a shudder as their lowered NB lifted all four wheels after one little lump in the road! Still, the downhill twists are a heap of fun.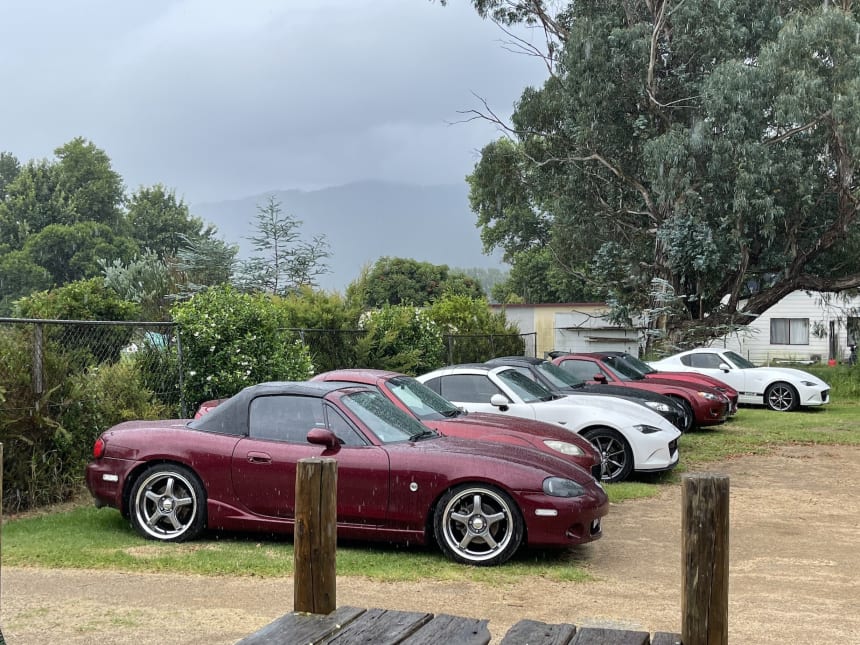 We had the company of a dozen or more Harley Davidsons and riders at the pub, but apart from the thunder as they left after their lunch, we hardly noticed them. (That's not entirely true, they did take up a few tables and plenty of parking spots!). The pub was expecting us, though, and made a good effort of feeding our group of 20 as well as the bike riders with a reasonable flow of the tucker. I must record, however, Ted and Rozie's patience as they were the last of our group to be fed and had to endure watching everyone else chow down on steaks, burgers and schnitties. But I think everyone agreed the tucker was good – I can vouch for the steak sambo.
As would seem ordained, it bucketed down while we had lunch (it's happened every time I've been to Araluen with the Club) but seemed to have cleared up when we started to head home. That was illusionary, of course, and the last few cars out (us included) copped a brief drenching that cut visibility to only a few metres just after we had emerged from the valley towards Braidwood. The biggest problem was that it also hid the potholes and broken bitumen, but everyone made it out in one piece.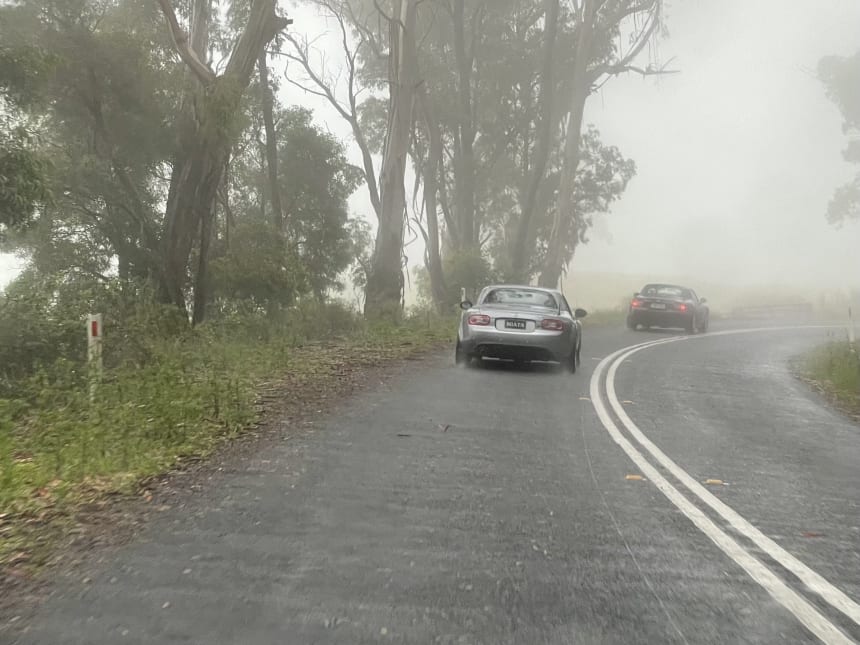 Home from Braidwood was 'at your own pace' and the group had well and truly dispersed by the time we were on the track to Bungendore.
This is a great short run, with a good bit of fun for the drivers and a good spot for lunch. It will be even better once the roads are properly repaired.
Thanks to everyone, including the folks at the Araluen Pub, for a good day.