Coota Caper
01 June 2022 / Words by peter & Annemie Wilson, Pictures by Peter Wilson & Rod Nicholas
It was a typical Autumn morning in Canberra, around five degrees with a few clouds in a blue sky. Six cars and eleven members were at the start and ready to drive. We had a few cancellations due to Covid illness; the ailment appears to be more common as we move forward from the lockdowns.
We suffered the usual boring drive along the Barton and Hume Highways to Burley Griffin Way, although there seemed to be much activity at schools en-route and not much traffic on the roads. An election on the day we planned a run may have distracted other motorists!
We stopped for morning coffee at the Terracotta Café in Murrumburrah and our hosts, Michael and Anne, had a good supply of cakes to complement the coffee. After a coffee, in front of an open fire, we wandered across the road to view the newly erected statue of "Bill the Bastard" and the five soldiers he rescued from one of his many trips to the front at Gallipoli during World War 1.
The murals on the nearby silos are also worth a look.
After Murrumburrah we enjoyed an interesting run through the back roads to Cootamundra. The road has had some recent work on the bitumen surface and had few, if any, potholes. It is in much better condition than some of the secondary roads in the area.
Lawrie and Annie, from Wagga, arranged to meet us at the Ex-Services Club in Cootamundra for lunch. Then it was time for a walk along the Captains' Walk in Jubilee Park. Of course, there was the mandatory photo with the statue of Sir Don Bradman.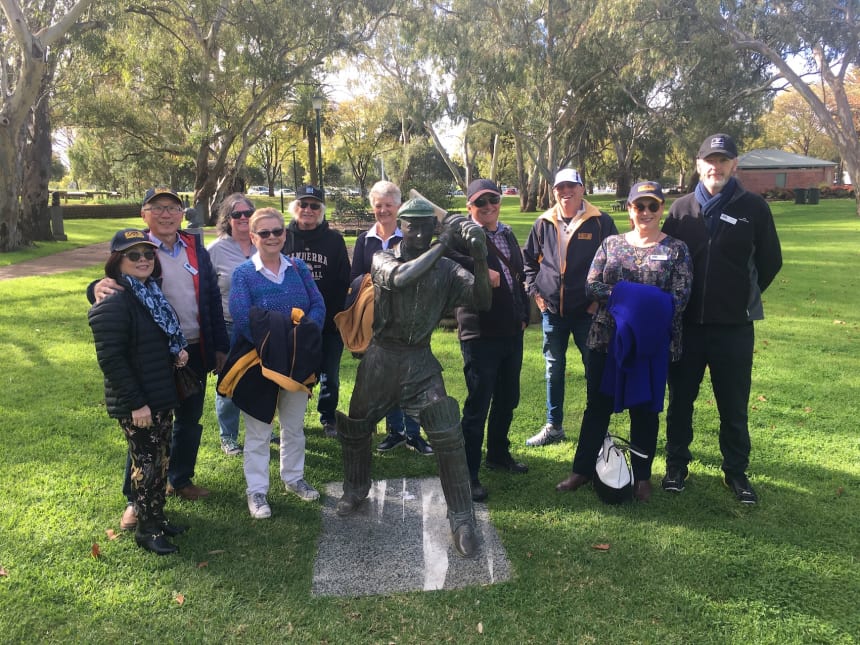 The obligatory photo, us mob admiring The Don.
Lawrie and Annie joined us for the drive along Rosehill Road to Jugiong for an afternoon coffee before the drive home.
We arrived home with 320kms on the trip meter. Thanks to all on the run we had an enjoyable day.
Peter and Annemie Wilson