Crookwell Pub Lunch
14 June 2022 / Words by Peter & Annemie Wilson. Photos by Peter & Annemie Wilson and Stephen Yong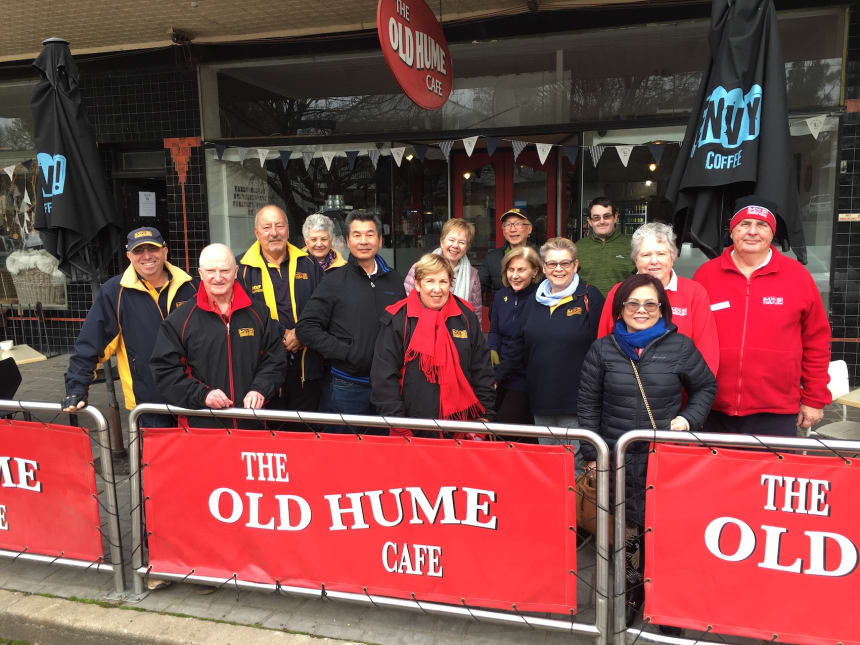 The Crookwell Lunch Mob
We arrived at the Bakery just before 10.00am and half of the group were already enjoying cakes and coffee before the 10.30am start. It was cold outside and a chill factor from that breeze was more than a little chilling. It was a very quick briefing in the car park.
The road between Sutton and Gundaroo has suffered from recent heavy rain and it was a task to dodge the numerous potholes. After Gundaroo the road improved although the odd pothole was a challenge at times. Driving from Gunning to Crookwell the sky was overcast and looked very much like snow clouds. The wind farms were generating electricity and obviously there was high demand on a cold day.
The Canberra contingent of fifteen arrived in Crookwell a few minutes before Bill and Jan from the Illawarra Chapter. Crookwell lived up to its reputation with the weather, cold and snow forecast that night. All were anxious to move inside the Criterion Hotel and very pleased to be greeted by a warm open fireplace; there was plenty of jostling and sneaky shoving to get the best possie in front. 
Although there were only two working in the kitchen, the meals for 17 were served rather quickly and enjoyed by all. There seemed to be consensus the pub was worth another visit later in the year when the weather will be warmer.
Most drove back to Gunning for a coffee and more cake at the Hume Café. Those keen members driving with the roof down enjoyed the warmth of another fireplace.
An uneventful drive from Gunning and we arrived home at 3.15pm with 205kms on the trip meter. Thanks to all for an enjoyable day.
Somewhere near Crookwell
Peter and Annemie Wilson