Gems of the Central West
23 May 2022 / Words by James & Giulia Schiemer
The morning was cool and cloudy.
The cemetery was misty, tranquil and serene.
Wait ... what?
The cemetery?
On a cloudy Friday morning, Murrumbateman cemetery was misty, tranquil and serene… until 11 MX-5s (eight NCs and three NDs, from Canberra, the Illawarra and the South Coast) rolled up and 21 members emerged! Dad jokes were made - 'enough noise to raise the dead', 'dead centre of town', 'the road in was a dead end', 'so early we were on the graveyard shift', 'everyone's been dying to get here', 'the nightlife here is dead boring' ... (What could you expect - the meeting site was on the recommendation of our Pun King, Dennis.)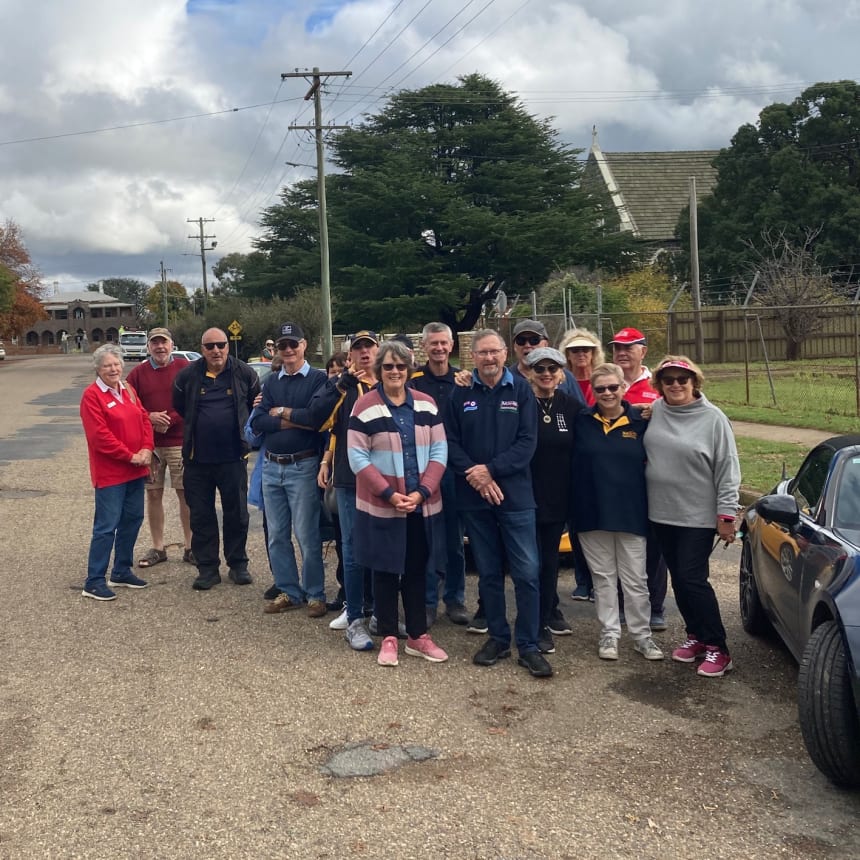 Us mob, at Boorowa
Once all the dad jokes and greetings were over, we all headed off northward, to a comfort and coffee stop at Boorowa. Next stage was to Eugowra via Cowra, where lunch was planned at The Fat Parcel Food Van, an outdoor cafe owned by Judd and Tracey. Due to the cool weather, Judd installed half of our group in his new restaurant (so new it was yet to be opened) and delivered our orders from the cafe across the road! The other half of our group were treated to a mini-bus tour to check out historical bushranger sites and the town murals, courtesy of Ron and Tony, two of Eugowra's gentlemen. They then took the second half of our group on the tour. One of our members, Mike Lawless, was very excited as a local bushranger was a family relation! Some other members were entertained by a local farmer and bush poet!
Next stop was the Old Vic Inn in Canowindra, our accommodation for the night. Dinner was a three-course meal at the famous Montrose House, owned by a charming local character, Tommy Jeffs. After a great meal he entertained us with some amusing and vaguely truthful stories. Our group then proceeded to meander up the middle of the peak-hour main street of Canowindra, back to our lodgings.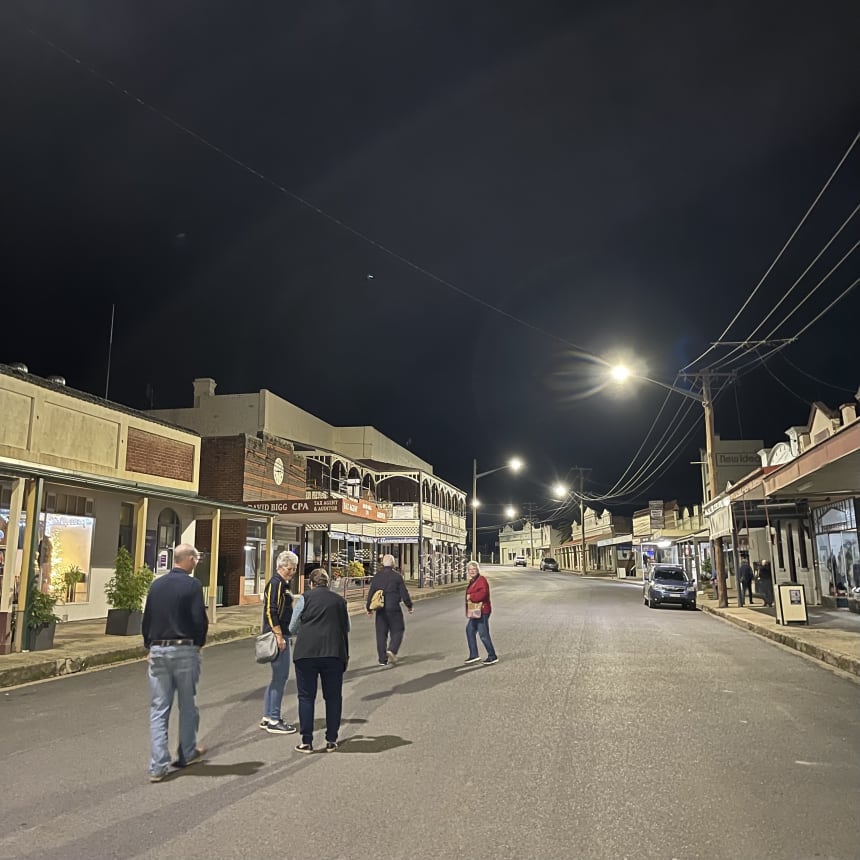 It's a busy peak-hour street, here in Canowindra!
Saturday morning saw us checking out the shops of Canowindra after breakfast, then a drive to Millthorpe with a coffee stop in Blayney. Lunch was booked and enjoyed at The Old Mill Cafe, although The Great Car Key Incident of Canowindra prevented three of our group from getting to Millthorpe on time! Details are shrouded in mystery and may be made public in time, but it is known that the NRMA Road Service was involved!
Check-in at Millthorpe's Boutique Motel was followed by an afternoon's shopping in Millthorpe (proving popular at least with the ladies, where cardigans were a must-have purchase). One of our group led a small party in to Orange to locate the Badlands Brewery and sample their wares. The brewery's cellar door operates through the Agrestic Grocer, a rather special sort of grocer/bar/restaurant, and although a tasting paddle was not to be had, samples were available for purchase and consumption. The group left with several interesting looking beers and an appreciation for the finer offerings of Orange.
Dinner that night was booked at Tonic, a Chef's Hat awarded restaurant in Millthorpe, where a chef's choice menu of 5 courses was on offer.
Next morning saw some more shopping, followed by a meandering drive towards Rockley, led by our Convenor and guest run leader, Peter Wilson. Being a motorcycle aficionado, he knew all the best MX-5 roads, and we went through Barry, Neville, and Newbridge, where a good pub was discovered along with crafty shops. A jaunt down Cow Flat Road led us to Rockley where lunch had been organised at the Matt Moran-owned local pub. For a small village, Rockley certainly had its fair share of visitors that day and the pub was busy, but Jo and Simon looked after us as we as usual created a racket in a private room having our lunch! A wander around Rockley followed (more little shops), and then we headed off to our next overnight stop at the Highlands Motor Inn in Oberon. The local RSL Club was our choice for dinner, and the Club's Courtesy Bus picked us up from the motel and delivered us back.
Our last morning started with breakfast at the Long Arm Farm Cafe, and we then headed off on a beautiful day towards home, via Taralga and Goulburn. A stop in Taralga for goodbyes from most people, although three cars went to Roses in Goulburn for lunch.
A terrific run, generally good but cool weather, and an opportunity to travel some great MX-5 roads and visit relatively unknown but charming villages.
** More photos coming when i get a chance to load them up ...