Mid-week Pub Run to the Lake George Hotel
19 July 2022 / Words by Steve & Cecelia Wakeling. Photos by Rod Nicholas
Thursday 14 July 2022
July's Pub run was on a Thursday. I change the days of the week so that members who cannot make it on a Wednesday have a chance to join the run. As much as possible, I try a new pub each time – there are plenty to choose from.
Today's run was to the Lake George Hotel in Bungendore, a couple of hours away and a distance of about 150 km. The weather was a bit cold at 15 degrees, with a few clouds but no wind. Good enough for a top-down drive.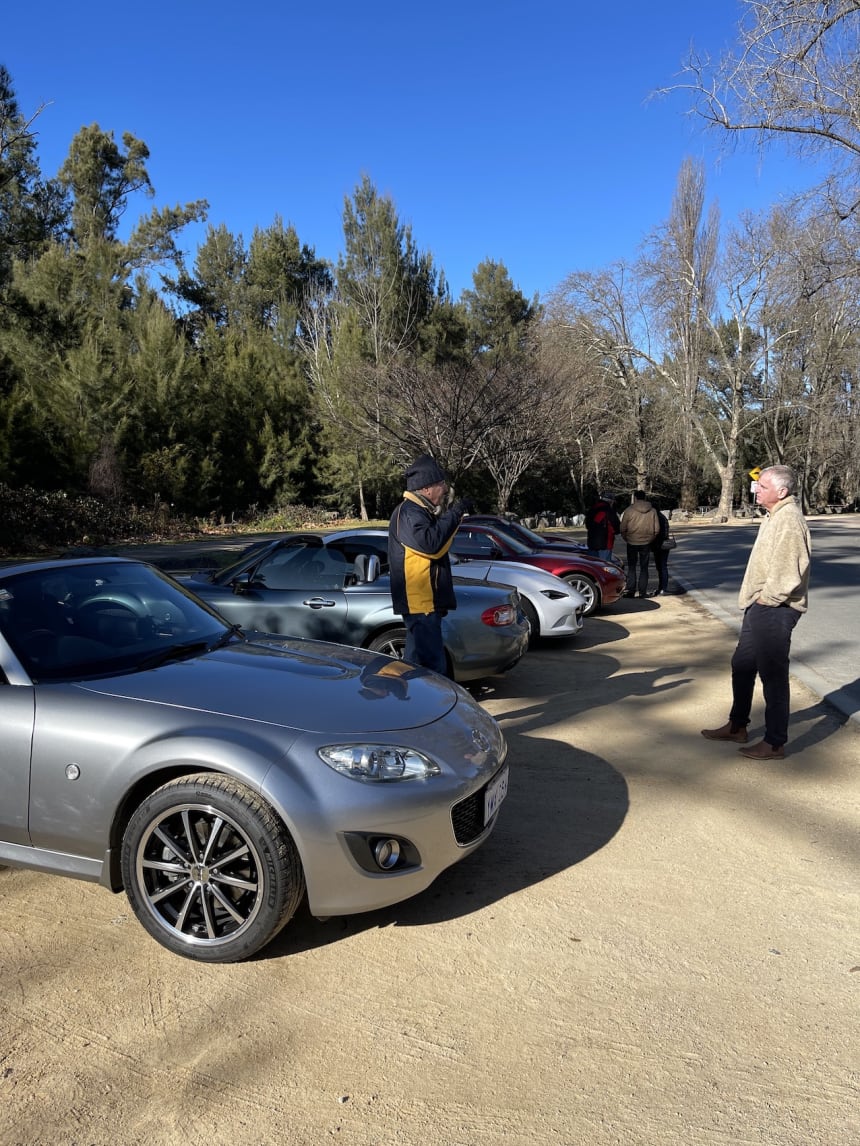 Norm and Adrian discuss the wonders of the NC Roadster
We started at the base of the Cotter Dam and proceeded along Brindabella Road to Uriarra Village where we turned right onto Uriarra Road. Uriarra road follows the Murrumbidgee River for several kilometres making the scenery impressive. Uriarra Road took us to Fairlight Road and across the border into NSW. Fairlight Road was narrow with no white lines but in very good condition. The next road was Mountain Creek Road. It, too, is narrow with no white lines for most of its length and still in good condition. Fairlight Road and Mountain Creek Road do not have speed signs for the corners so zooming along roads that are winding, hilly, narrow with unmarked corners which makes for exciting driving in our MX5 NC2 with the roof down.
We did encounter some kangaroos on this road but luckily all but one knew the road rules and stayed on the other side of the fence; we managed to miss the naughty one.
Mountain Creek road took us to Wee Jasper Road and across the Murrumbidgee River at Taemas Bridge. More amazing scenery as the river has been swollen by months of regular and sometimes heavy rain. Wee Jasper Road leads to Yass where we turned right and headed to the Barton Highway and on to Murrumbateman. Here we chucked a leftie onto Murrumbateman Road (fair condition), then Sutton Road (heavily potholed) for a short distance where we encountered extensive road works. Left onto Shingle Hill Way. On this road we encountered a Porsche club going the other way; at least 15 cars consisting of sports cars and SUVs. Maybe they were on their way to Murrumbateman pub for lunch. We all gave each other a friendly wave. Unfortunately for them they could not put their roofs down to fully enjoy the drive.
Right onto the Federal Highway for a short distance and left onto Bungendore Road and down to the Lake George pub for lunch were Francis joined us for lunch. One of our group, who had not been to this pub for many years, was presently surprised by the quality of the extension and renovations (and the tucker). Rod was most impressed by the extensive beer list – plenty of new and interesting beers to try, if only he wasn't driving (he was not tempted by the $35 stubby, no matter how good it sounded).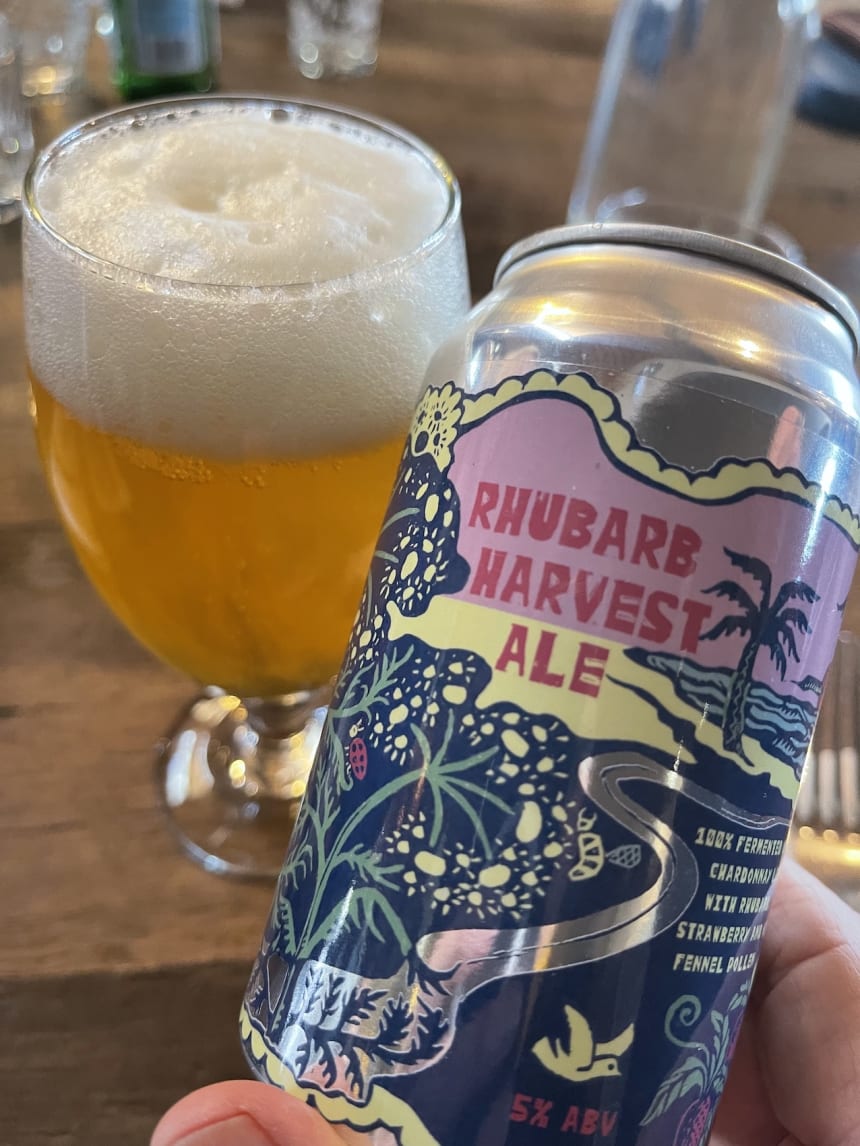 Rod can always find an interesting beer - this one with rhubarb, strawberries and fennel
We had six cars in our group (eight members and three guests), including one member from the Illawarra Chapter and her guest who drove up from the 'gong just to join us. With Francis, who popped in for lunch, and a special visit from our daughter Melanie, we all enjoyed a long, and very relaxed lunch.
A very enjoyable run was had by all, and we will definitely include this run in my portfolio of monthly pub runs.
Cheers Steve & Cecelia
(Photo of Lake George Hotel courtesy of the Lake George Bar and Dining (https://www.thegeorgebaranddining.com.au/)